Does your cat walks up to you, meows a bunch, and jumps up on the nearest high surface every time you get home? Yes, cats are that precious, and just like dogs, they can be attacked by fleas, so your duty is to protect them at all times. The reason why today we'll be sharing with you flea comb for cats options.
Fleas can infect all cats, and they can be passed on to other animals in the same house or humans. The reason why investing in a good flea comb becomes an essential tool for the care of your miniature tiger. If you notice your cat itching constantly instead of rolling over on his back and waiting for you to pet his belly aggressively, it may be a bad case of fleas.
The problem sometimes lies in knowing what flea comb to get when there are so many options in the market. But don't fret, not yet anyway. And check out below some of the best flea combs for cats options available in the market today.
Flea Comb for Cats FAQ's
What is a flea comb for cats?
A flea comb for cats is just that, a fine-toothed tool designed to comb through the fur of your kitty efficiently. Compared to other pet grooming devices, the flea comb's teeth are typically made of metal.
How to know if your cat has fleas?
You may notice your cat scratching and biting different parts of his body more than he would regularly. Fleas make them extremely uncomfortable, and his unease is a clear sign.
Keep in mind, even if your cat is indoors 100% of the time, they can get fleas. Fleas jump 100 times their own height, so it is easy for them to jump on you or your dog when you are outside and bring the fleas into the house.
How to use a flea comb?
Slowly and gently. First up you will want to get a towel or old blanket that you can comb your cat on so any eggs or fleas can fall on this when combing.
If you comb downwards, the fleas may fall off the comb onto the ground and escape or jump back onto your cat, or other pets or you, which is not good.
Start combing from the ears and head and move towards the tail. Slowly cover all areas, including the underbelly and the top of the pet's neck and the area around the rump.
Fleas can hide in any area and especially when they get an idea that a raid is being carried out, they will scoot for a hiding place.
Do you need other products to combat fleas?
If your cat has a bad case of fleas, you may want to use a flea comb combined with other flea removal products for better results, such as flea shampoos.
How long does it take to remove fleas from a cat?
Several weeks of continuous, daily combing, combined with a good flea product, cleaning the house, vacuuming the floors, washing all areas where the cat uses (your bedding, their bedding) will eventually get rid of the infestation.
Are there any alternatives to flea combs?
You can also use a soothing cream or use an oral treatment. Your trusty vet can advise you on that.
What to look for in a good flea comb?
Look for the following characteristics
Teeth close together
Metal/plastic teeth
Teeth of two lengths
Double rows of teeth
Teeth at different widths
Teeth with rounded ends
Bright color
Comfortable handle
Flea comb for cats
Easily removes tangles, crust, mucus, and stains around your pet's eyes or body; stainless steel, with short and close teeth. It is ideal for cats and all size dogs.
The handle's ergonomic design makes it easy and safe to clean the corner area, such as cat eyes. Metal teeth are placed tightly together to pick up fleas; this comb easily removes fleas, flea eggs, & debris from the cat's coat.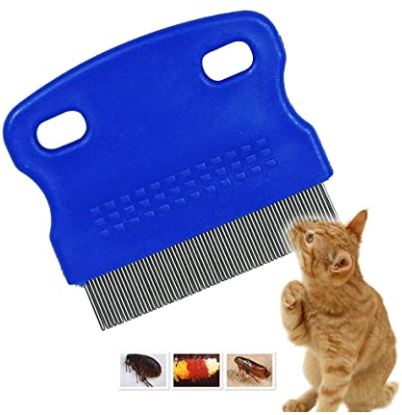 Features:
Fits comfortable in the palm of your hand
Easy to use
Comfortable for your pet
Ameliade Cat comb is like a massage for your pet. It won't scratch your pet's skin and enhance blood circulation. The finely curved bristles can penetrate the pet's fur to comb down.
Ameliade Cat comb can better promote blood circulation and make your pet fur soft and shiny. Give your pet a fun and enjoyable beauty experience. Will not harm pets Skin-friendly and not easy to fold.
Suitable for all kinds of cats, dogs, and small animals.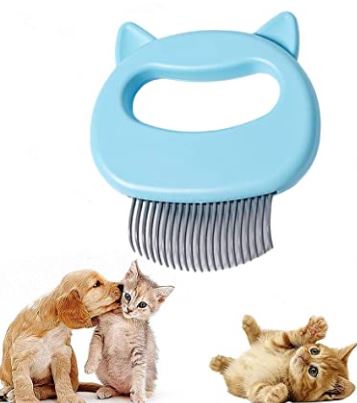 Features:
Flexible soft comb
Fits hand shape
0.39inch bending arc
Easy to clean
This flea comb presents a double row of closely-spaced metal pins to remove debris and dust in half the time it would take you with a single row comb.
Made with high-quality rust-resistant stainless steel pins are easy to clean and have smooth rounded ends that prevent scratching, making them safe on your pet's sensitive skin.
This double row comb grooms and massages for a healthy coat, increasing blood circulation and leaves your pet's coat soft and shiny.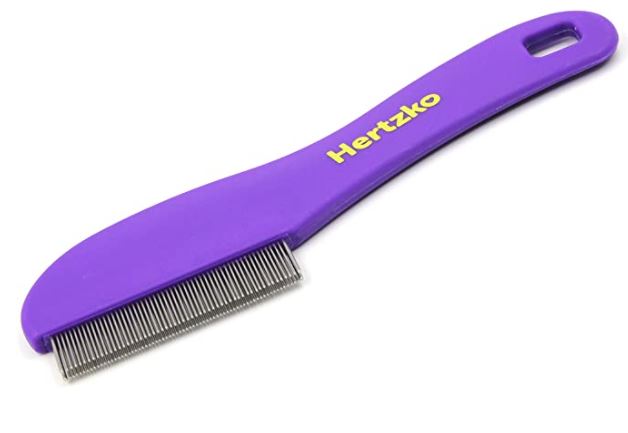 Features:
Gentle and safe
No scratch round teeth
Double row comb
The Safari Cat Flea Comb effectively removes fleas and debris and detects skin problems in the early stages. Before using, groom your cat with a Safari cat comb or brush to remove mats and tangles that could damage the teeth of the flea comb.
Comb your cat slowly, periodically checking the teeth of the comb for fleas or debris. Pay particular attention to areas around the ears, nape of neck, and base of the tail. Between strokes, dip the cat flea comb in a cup of water with mild detergent to kill the fleas left on the comb.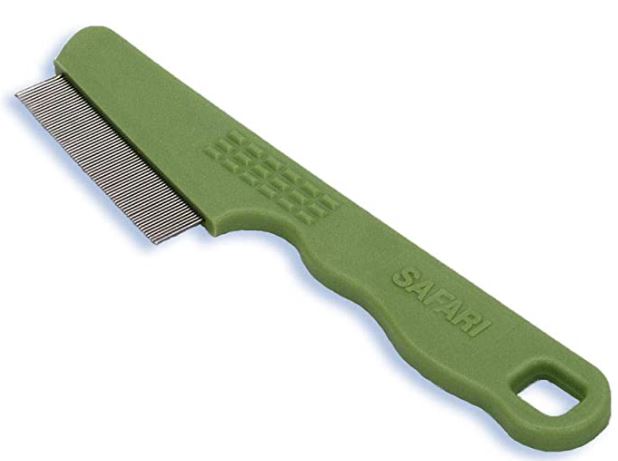 Features:
Reduces Skin Irritation
Suitable for short and long hair
6.25″ long and 1.375″ wide flea comb
With this kit, you get 4 different kinds of combs use in different kinds of pets, such as dogs, cats, etc. Most of the house pets; featuring stainless steel high strength teeth.
Effective in removing float hair from your love pet at one time, easy wash by water after flea removal, smoothing teeth head won't hurt your pet.
The comb teeth are made of stainless steel to prevent rusting due to get wet after washing; stainless steel teeth are tightly embedded in the plastic grip to preventing drops out from the comb, non-toxic plastic protects you and your pet's health.
Features:
Grip comb
Long teeth comb
Double side teeth comb
Short teeth comb
General Tips on Flea Comb for Cats
When using for the first time, please use a gentle and relaxed way, do not use too much force.
When your pet has large tangles and matted fur, it is recommended to cut it off with scissors before combing. This will better protect your pet's skin. It will not make the pet feel pain.
After combing your pet, take out the hair between the teeth of the comb by hand, you can rinse the comb with water and dry it with paper towels.
Keep in mind, some cats do enjoy being combed, unfortunately most, don't. Always keep some treats to hand for your feline. Talk to them softly to reassure them.
Some cats may react badly when combed. If you find yourself in such a situation, look for an alternative to combing.
When brushing, be sensitive, there could be areas that may cause pain when brushed. If you simply brush through, the cat may run away the next time they see you pull out the brush.
If you cat is infested and you need to do this often, avoid hurting the cat. If the cat has suffered flea bites, avoid brushing since the cat may have inflammation.
If the fur of your cat is very short, use a wide toothed comb first to untangle any knots.
You might also want to read about the Best Flea Collar for Cats. Another interesting read you could find helpful is the different types of Dewormer for Cats Options.