Does your cat suffer from indigestion and bleating, then you may want to start thinking about investing in a slow feeder for cats? These become quite essential if your cat is the fast eater type. The reason why today, we'll be telling you all about slow feeders for cats and where to shop for them.
Slow feeders offer numerous benefits for cats; with a slow feeder, you can avoid your cat gulp big chunks of food, thus avoiding at the same time possible choking or regurgitating episodes. As you can see, investing in a slow feeder for cats can help your feline friend in getting rid of bad eating habits so that they can stay happy and healthy.
There are numerous slow feeder for cats options available, but if you're feeling a little overwhelmed and unsure what features to look for, do not panic. We've come up with some of the best slow feeders for cats, so peel your eyes and feel free to pick your favorite.
Slow Feeder for Cats FAQ's
What is a slow feeder for cats bowl?
Slow feed bowls present innovative designs that are specifically geared toward making your cat eat more slowly. Instead of just one cavernous space for your kitty's kibble, these unique bowls include raised areas in several patterns that are designed to encourage your cat to work a little harder for their food.
Why is important for cats to eat slowly?
Cats that eat slowly minimize the risk for several health issues, such as:
Regurgitating her food
Overeating
Bloating
Choking
Aspirating her food
Intestinal discomfort
Stress
Feeling sluggish
How can your cat benefit from a slow feeder for cats?
If your cat eats too fast, then she might end up gulping or overeating, which may result in indigestion or bloating. By gulping larger chunks of food, your cat may also choke or regurgitate. If this continues, then it will also make your cat obese. Obesity might also end up causing other health-related issues. Eating fast is also concerned with behavioral issues in cats.
To avoid any such health issues in your cats, it is best to use a slow feeder cat bowl. A slow feeder will also relieve anxiety and feeling of boredom or loneliness.
How does a slow feeder for cats work?
The slow-feeding bowls will divide the food into small proportions and prevent your cat from gulping the food at once.
The fact that these slow feed bowls provide various obstacles for your cat to eat around not only makes your pet eat slower but also provides necessary mental stimulation and a more engaging way for your cat to enjoy her meal.
Tips to get cats used to a slow feeder
Never force your cat to use the slow feeder right away.
Cats tend to be interested in the items their humans use. Try fiddling a little with the slow feeder so your cat will come over to see what's going on.
Add your cat's favorite treats to the slow feeder is a great way to grab your cat's attention.
If your cat loses interest in the feeder, put it away for a few days and then reintroduce it in a different spot.
Slow Feeder for Cats Options
Funnel-Shaped Bowl is easy to load and automatically distributes food as needed. Your cat will enjoy mental and physical stimulation while eating at a healthier speed.
Cats eat less, saves money on food bills. No boredom eating – exercise with natural prey drive to capture food.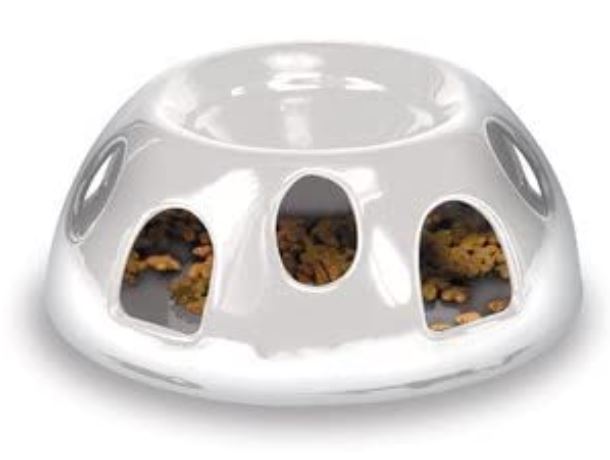 Features:
Mental & physical stimulation
Porcelain / Stoneware
8.25 x 8.25 x 3 inches
This slow feeder is designed to improving digestion. Cat bowl for fast eaters, make mealtime last up to 5x longer, prevents the risk of gastric dilatation-volvulus or "Bloat" and indigestion.
Made of food-grade melamine material BPA, PVC, and phthalate-free, scratch-resistant, and high gloss(which can't be seen in other plastic bowls), acid and alkali corrosion resistance, dishwasher safe.
Compared to other materials such as ABS material and plastic, melamine material is heavier for the size to reduce tipping over, rubberized bottom reduces skid.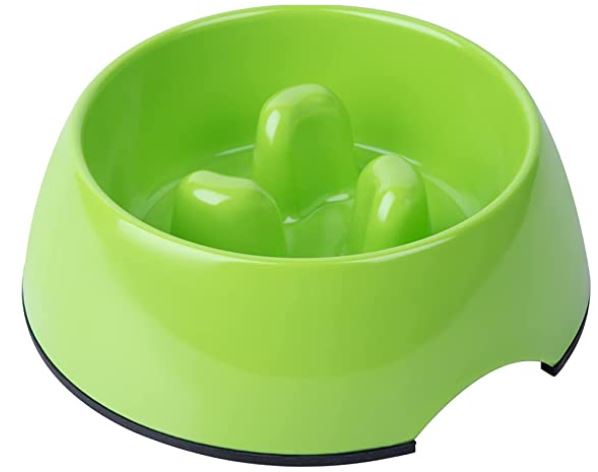 Features:
Fit for all types of food
Melamine bowl
Improves digestion
Heavy and no skid
The Slow Feeder Cat Bowl is heavy-duty plastic, non-toxic, food grade safe, and sturdy. The swirl flower pattern of the Slow Bowl is designed to slow down rapid eating, stop choking, interactive and fun feeder, educes tummy aches, diarrhea, and vomiting by fast eaters, eat slower and eat healthier.
It presents a non-slip design, preventing your cat from sliding and moving around. The bowls for fast-eating cats it's easy to clean and wash, dishwasher safe.
It will help make your cat eat slower and more fun, help to promote intelligence.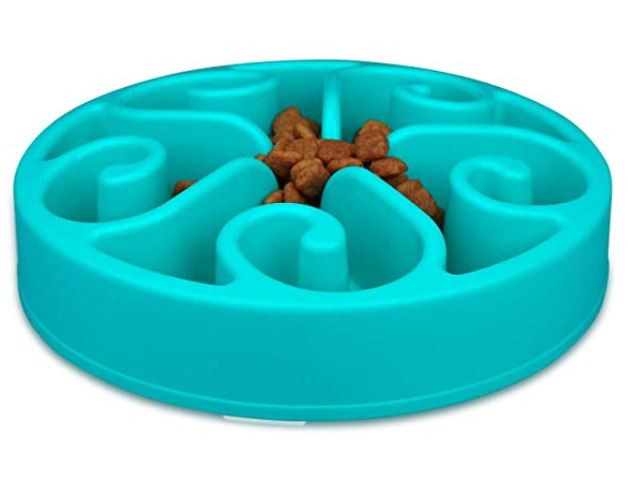 Features:
Anti choking
Prevent over degree of obesity
Bottom slip, not easy to move
Heavy heart, not easy to arch over
Prevent eating lead too fast dyspepsia
Super heavy and hard plastic, not easy to break
With the Senses 2.0 Food Tree by Catit, you can awaken your kitty's senses and satisfy his instinct to hunt and forage for snacks. Think about it, in the wild; cats aren't fed kibble in decorative bowls every day; they work for every meal.
Your cat will move his kibble from the top of the tree to the dish at the bottom, pawing through the side openings to "hunt" for more pieces. His food will wind up in the spill-free dish every time, so he gets his food, and you get spared from cleanup duty.
With its round, stabilizing base, this tree is complicated to knock over, and the narrow hole on the top prevents your cat from cheating. It's the perfect solution for cats who eat too quickly because it forces them to slow down. Your hungry cat will paw out smaller portions at a healthy place, plus he'll have fun doing it.
Use warm water and soap to clean. Dry clean before next use.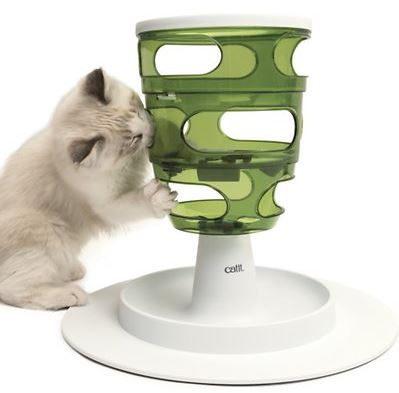 Features:
Stimulates your kitty physically and mentally
Encourages hunting instincts
Encourages cats to slow down while eating by making food-gathering a challenge
Can be rotated to 3 different sizes
Base doubles as a no-spill dish
Easy for pet parents to take apart and clean
Lorde slow feed Cat Bowl is custom-designed to promote healthy eating, adjust pet weight, and prolong meal time to prevent indigestion. With Fun Feeders, pets eat a healthier and more balanced meal.
Maze shape bow allows your pet to enjoy catching food in this different size- fish shape bowl brings added fun and improves agility. Reasonable distance between ridge and valley can effectively delay the pet eating speed.
It presents a smooth surface design to prevent the pet's mouth and tongue from being scratched.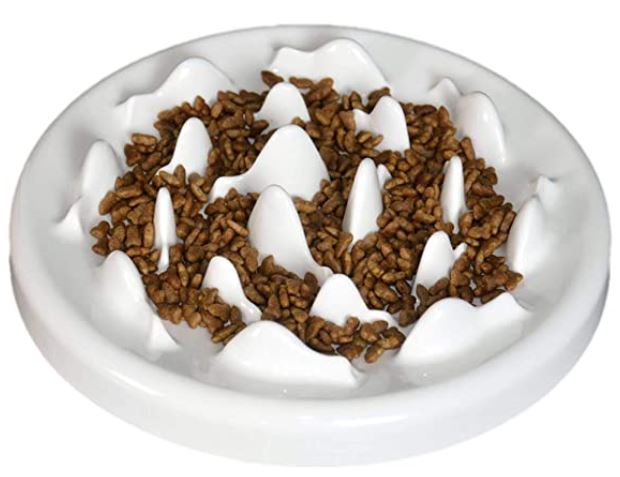 Features:
Made of high-quality Ceramic
Non-toxic
Odor-free
Lead & Cadmium free
Dishwasher and microwave safe