Wishing your cat would stay away from certain areas in your home? We hear you; sometimes cats explore places they shouldn't, but we're here to tell you, you can easily resolve this problem with a pet gate for cats. And today, we'll be sharing with you all about them and where to shop for them.
When you first got a cat, you probably didn't know you would need a gate for your feline friends, turns out, these are pretty handy when it comes to setting some boundaries inside the house. Just as you prevent a tiny human from accessing areas of a home where they might be unsafe with a baby gate, a pet gate for cats can do the same for your furry baby.
It gets a little hard knowing which one would suit your kitty the best with all the different pet gate options. Suppose you have no idea what type of pet gate the cat can get or what features to look for, do not panic. With this guide, you'll definitely find everything you need to know on the best pet gate for cats.
Pet Gate for Cats FAQ's
Reason to get a pet gate for cats?
Cats are notorious for going whatever they want; you can easily find them in odd places, including on top of bookshelves, above the fridge, and even searching the cabinets. But to avoid these and other places, a pet gate may be handy.
Cat gates may not always prevent the most athletic cats from exploring, but they help define strict borders within the house. As your cat encounters the new obstacle, it'll pause and consider why the doorway or stairs are blocked. Intelligent kitty minds go to work, and they'll often wander away.
Does a baby gate works for your cat?
When choosing to invest in a cat gate, skip the baby-gate aisle. Baby gates have small humans in mind, not animals. They lack the sturdy construction and design cats and dogs require.
What are the types of cat gates?
Generally, pet gates can be found in three types.
Freestanding: You can move these gates around and set them up in different configurations. Some come with walk-through gates, and some don't.
Pressure-mounted: These extend between doorways or halls and stay in place with tension. They're a little more restricted, and you have to step over them.
Hardware-mounted: These are permanent gates that stay where you place them. This types of gates can be walk-through gates.
What are the benefits of a pet gate for cats?
Your pet gate can solve several situations/problems, especially if you own both cats and dogs. When you have a pet gate for cats, you'll forget about the following scenarios.
Your dog thinking the kitty's food tastes better.
You have a cat who needs to eat small meals throughout the day
The dog thinks the litter box contains "treats."
The cat needs a "dog-free" zone to relax in
Will a cat really stay behind the cat gate?
Athletic cats have no problem launching themselves over the cat gate, so you may want to take additional steps if you really want to avoid your cat from the opposite side for a special occasion. You could try:
Block your cat's view by creating a safe pile of objects on the opposite side of the gate. This way, your feline friend won't be interested in knowing what's on the other side.
Spray a cat deterrent around the gate; cats despise them.
If your cat is a jumper, you may want to get an extra-tall cat gate designed to foil that leaping prowess.
Pet Gate for Cats Options
The Carlson Extra Tall Walk Through Pet Gate is a convenient, chew-proof way to contain and protect both your pet and home.
The pet gate hits all the criteria with an all-steel construction that installs quickly by either pressure mount or wall mount. It is adjustable to accommodate door openings between 29-36.5" wide and stands 36″ tall.
Presents a pressure mount design that is is quick to set up and includes a 4-inch wide extension kit, four pressure mount spindle rods, four wall cups, and screws. Perfect for doorway, hallway, and bottom of the stairs.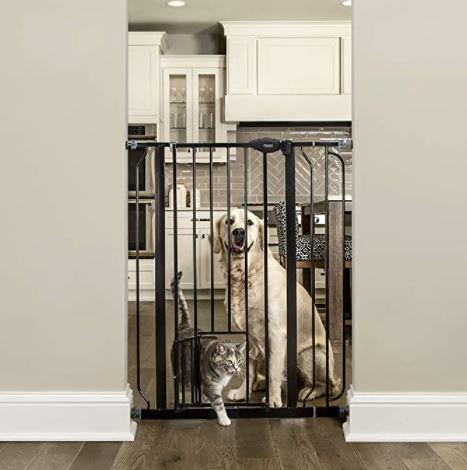 Features:
Extra Tall
Easy to set up
Adjustable
Durable and convenient
Convertible Elite Pet Gate can convert to a pet crate, freestanding dog gate, or a pet room divider as your pet grows.
The gate includes a door panel to help you pass through the opening with ease without having to move the entire gate. Each panel locks in place at 90 and 180-degrees to provide extra stability with specially designed caps.
The specially designed cap locks panels in place at 90⁰ and 180⁰ angles for extra stability. It can be folded for storage when the caps are removed.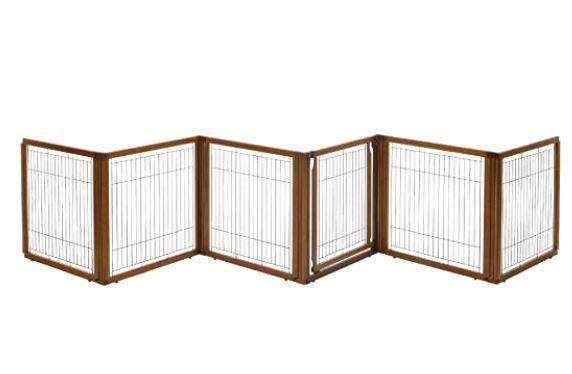 Features:
3-in-1 pet gate converts to a freestanding gate, a room divider and a pet pen
Lockable gate
Door allow easy movement
Beautiful hardwood construction
Easy to assemble
The Pet Gate provides a safe and efficient way to confine your pets while offering a decorative and handsome touch to your home. The 36" Height provides a tall barrier for larger animals.
Gate is built with 3 separate panels secured with sturdy hinges allowing the gate to fold out into a Z-shape configuration. Once folded out into the wide Z-shape, the gate is free standing and may be used in front of doorways, entryways, halls, bedrooms, and staircases.
Made from a durable MDF and sealed with a rich espresso, finish keeping your dog, puppy, or other pets securely confined while you are away.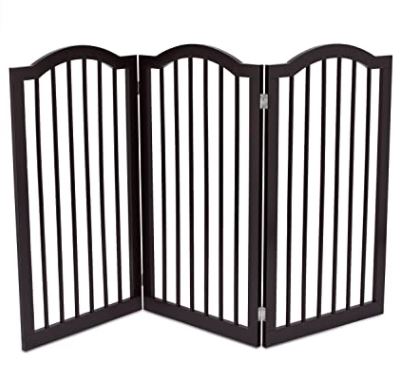 Features:
Slim and collapsible
Durable
3 panels
The Safety 1st Nature Next Bamboo Gate is an eco-conscious way to restrict access between rooms. Made from durable bamboo, a renewable resource, the gate also features 100% recycled plastic panels.
The gate can be used in doorways and openings anywhere from 28 to 42 inches wide, where it provides a barrier that is 24 inches tall. Pressure mounting ensures that this gate is easy to install and allows you to move it between rooms easily.
Whether you have a cat or a dog, this pressure-mounted gate is easily adjustable and lets you create a pet-friendly area within your home. And because it is a tension-mount solution, installing in a door or opening is simple and removing again when not needed.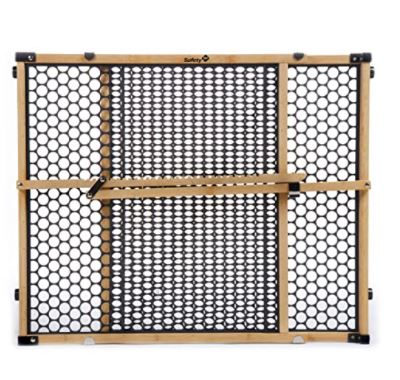 Features:
Durable bamboo frame and plastic panels
No drilling or tools necessary with pressure mount design
27″-42″ wide, 24″ high
For use at bottom of stairs, hallways, and doorways
This premium freestanding pet gate can provide a safe and efficient way to confine your pets while offering a decorative and handsome touch to your home or office. The footpads on the bottom ensure strong stability and protect your floor from scratches.
Featuring durable 360° metal hinges, this wooden dog gate can be folded into Z-shape or expanded to a U-shape suitable for different places for great convenience. In addition, the foldable design allows you to move or store it with ease.
With the suitable height and appropriate spacing between each slat, this pet safety fence can effectively prevent your cat and dog from jumping over and getting through. Therefore, it is perfect for the kitchen, stairs, doorway, and other places to keep your furry friends safe.
Features:
Free standing gate
Foldable
Multifunctional
Sturdy structure
Extra wide
Read: Best Cat food for Older Cats With Bad Teeth