Looking for a hat for your feline friend? Getting a hat for your cat is a must; you can make them look cute, super funny, or right-down ridiculous, depending on the type of hat you choose. If you feel a little lost or have run out of ideas on what to put on your cat's head, check out different types of hats for cats.
It might be a reference to the book or the film, either way, thanks to Dr. Seuss, we know that cats and hats go together. There is something about a cat's signature poker face expression paired with a fedora or a sombrero that is simply among the best things in life.
You can give your cat a complete makeover by just adding a different type of hat to their look every day. You can also buy hats for cats depending on the occasion, whether Christmas, Valentine, or any other holiday; you will love it, and your cat might enjoy it. Check out different types of hats for cats.
Types of Hats for Cats FAQ's
What you Need to Know About Hats for Cats?
As with all hats and costumes, these are meant for fun photo 'props' and are not meant to be worn for an extended period of time. Keep the pet's comfort and safety in mind, and do not leave the hat unattended.
How to Make a Hat for your Cat?
If you want to make it by yourself, then following the next steps, you can make your cate an awesome crochet hat, the perfect option during the cold months.
Crochet Hat
You will need cloth of your liking and get the sewing materials. Measure the cat's head, and make the cloth the same size as the cat's head.
Steps:
Chain 4; Slip stitch in first chain made. This will make a ring to crochet into.
Single crochet 7 into the ring, use a slip stitch to join, single crochet into first single crochet made: 7 single crochets.
Chain 2, work first half double crochet in the same stitch as the chain 2; work 2 half double crochets in each stitch around in a circle; slip stitch in first half double crochet made: 14 half double crochets.
Chain 3, double crochet in the same stitch as the chain 3, double crochet 2 in each stitch around, slip stitch in first double crochet made: 28 double crochets.
Chain 1, single crochet 8 in a circle, chain 13, skip 4 stitches, re-attach using a slip stitch. (This will create the first ear hole.) Single crochet 10 more stitches in a circle, chain 13, skip 4 stitches, re-attach using slip stitch, single crochet 3, slip stitch in first single crochet made.
Chain 1, single crochet 7 in a circle. You will be working into the 'ear hole' now, so you will be working in the space under it, but it's basically like working a normal stitch.
Fabric hat
Steps:
Cut a half circle pattern from your fabric.
Cut two holes on it for the ears.
Make two little holes between the two ear holes.
Make a tuft, and pull the two ends through the whole, tie a knob.
Make two holes on each end and pull through two pieces of yarn.
Tips for Putting the Hats on a Kitty
A good treat and relaxed mood are always a good start.
Always be very gentle and talk in a warm, soothing voice.
Encourage and praise the kitty for good behavior.
Don't force the cat if he/she really does not want to "dress up".
Allow some time for the cat to get used to wearing the item.
Types of Hats for Cats
Cute kitty cats can now be even cuter wearing this cool cotton bonnet. Turn your cat into a classic Beatrix Potter Tabitha Twitchett.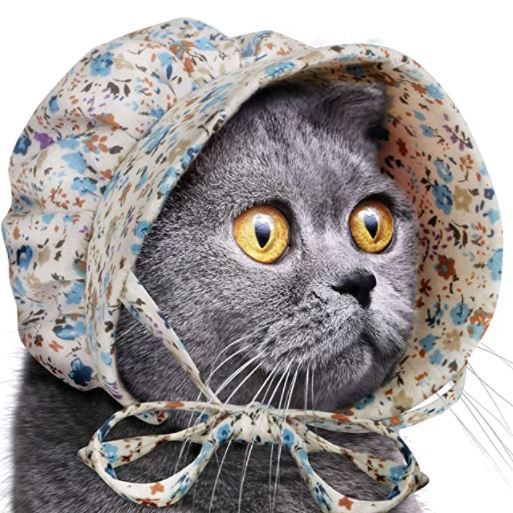 Features:
These pet costumes include a pet bow tie and hat. Size: Pet bow tie: Adjustable Pet Neck Girth from 9.1'' to 11.8'' (23-30cm); Hat: diameter: inner3''/ outside 5.4'', H: 2.36''
It is made from 100% exquisite handmade, comfortable cotton and polyester with adjustable velcro closure.
The strap of the hat is adjustable, easy to put on, and take off as well. Soft and comfortable, light, and had no sense of restraint for your pet. This pet bow tie and hat will bring both style and comfort to your cats.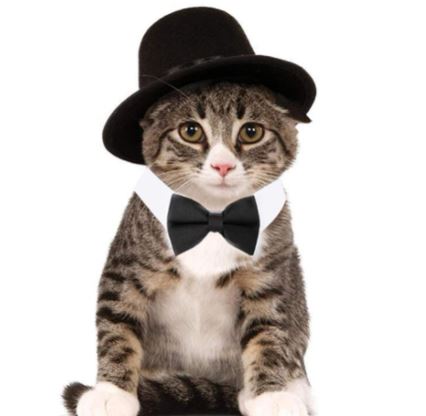 Features:
Light and easy to wear and your pets will like it.
Pet-friendly, exquisite detail.
Cute and Cool design: especially great for spring/summer vacation photos.
This cute and cute frog design is stunning and lovely, perfect decoration to make your pet stylish.
This pet cap is of high quality and strength. It offers good protection for the pet's head and can prevent the pet's head from being affected by the cold wind in winter.
It is also handmade, soft and warm knit material, soft and breathable, suitable for your pet. Perfect for daily wear, weekend parties, Halloween, Christmas, parades, photoshoot, or play date.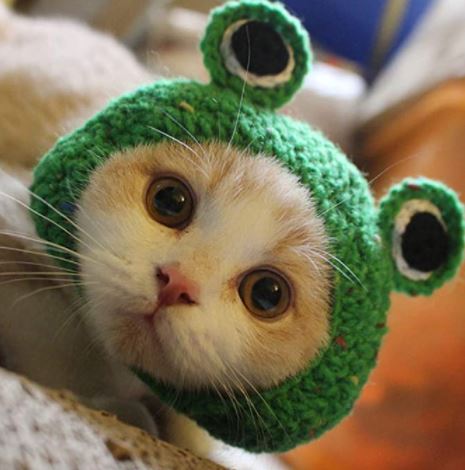 Features:
Head circumference: 32-35cm(M)
High quality material
Fashionable
Protects from cold wind
This sombrero style is cute and comfortable, easy to carry to any occasion, and the best part, it will give that Mexican flair to your cat.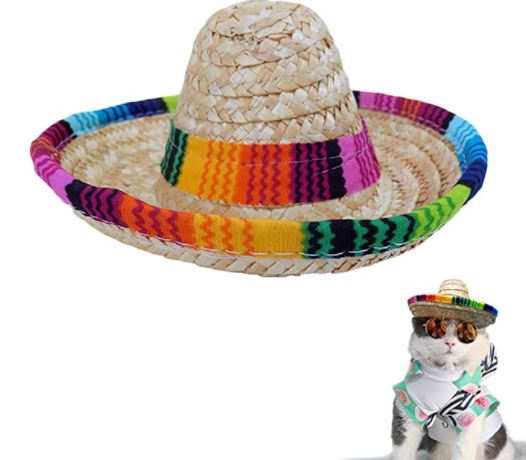 Features:
Dimension: Diameter-16cm,Height-7cm
Easy to Carry to Any Occasion
Material: Straw-Woven
Namsan Pet Costume for Holiday Cat Halloween Hat
Namsan pet Halloween costume imitating a sailor outfit, realistic hat with tie would make your puppy or cat a seaman, heroic and majestic.
This pet sailor costume hat is made of soft cotton and polyester, which is breathable and does not irritate the skin. With slots for the ears and Velcro buckle would fix the hat on the head well without falling. Fit cats head girth 13-14″, neck girth: 10-11″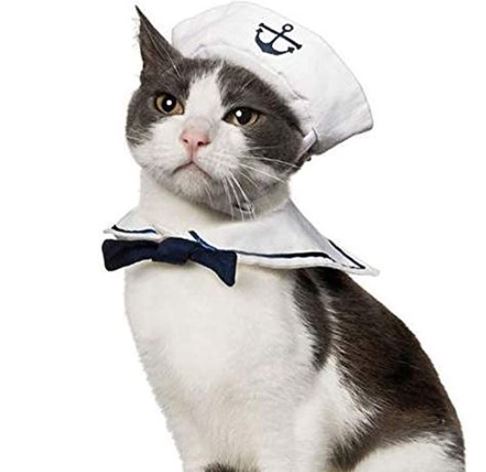 Features:
Made of soft cotton and polyester
With slots for the ears and Velcro buckle
What cat doesn't need a cool propeller hat, featuring colorful wedges and wood beads, topped by a golden metallic power-driven shaft with radiating blades! This will aid your kitty in its flying endeavors. Or it will just add even more adorability to their look.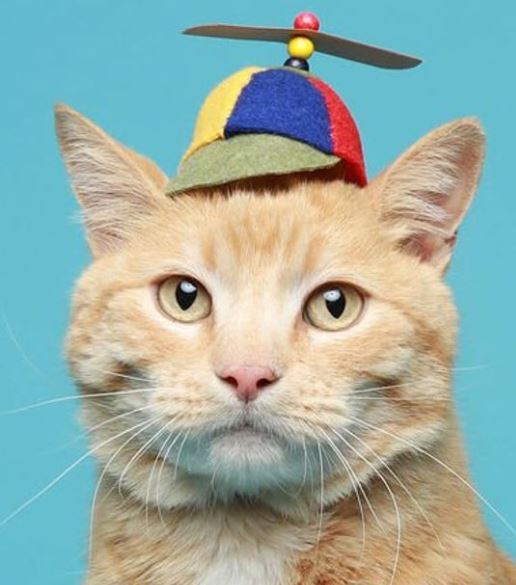 Features:
Handmade
Versatile
Fashionable
Designed especially for cats, hence unbelievably lightweight. Made through the process of needle felting (using a sharp barbed needle, derived from the industrial process). The hat is then dried, and the finishing details are added. A thin, adjustable elastic strap holds the hat in place, gently but securely.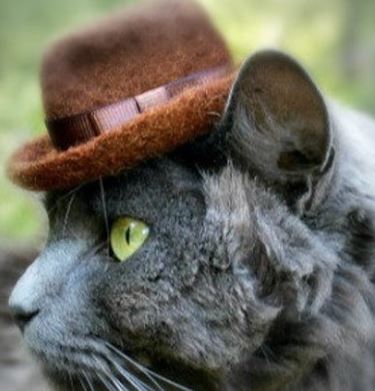 Features:
Handmade
Materials: wool felt, elastic
This red beret is specially designed for cats, is very soft, fuzzy, comfortable, and extremely lightweight. The size is 4 (11cm). It's made of fine, 100% natural wool, using the labor-intensive technique of wet felting. A thin but secure elastic strap holds the beret in place on the kitty's head.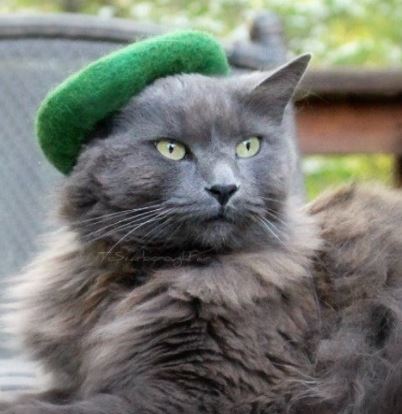 Features:
Handmade
Materials: pure wool